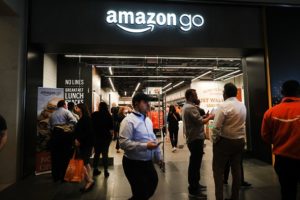 Keeping our communities strong starts with protecting good jobs like those in local grocery stores. With news that Amazon is launching a cashierless grocery store, there's never been a more important time to stand up for these jobs and the hard-working families they support.
UFCW International President Marc Perrone is pushing back hard on the company's job-cutting scheme. In a statement, Perrone made clear that "Amazon has one agenda – to eliminate as many jobs as possible to enrich one multibillionaire, Jeff Bezos. The takeover of Whole Foods was just the beginning of a ruthless strategy to fundamentally change our country's grocery industry."
We know customers don't come to our stores to work; rather, they come for friendly service to help put food on the table for their families. A recent poll shows around two-thirds of consumers prefer staffed checkouts, not the cashierless model Amazon is pushing.
"Jeff Bezos is doubling down on the cashierless business model in food retail as he seeks to eliminate millions of good American jobs," Perrone added. "Make no mistake, Amazon represents a clear and present danger to working and middle class Americans. It is long past the time for our leaders to wake up and act before Amazon and Jeff Bezos do long-lasting damage to America's economy."
You can read the complete statement from President Perrone here.