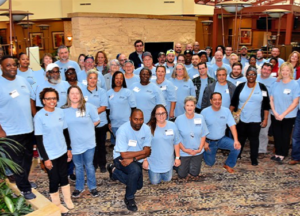 UFCW Local 2008 held its second biannual Steward Educational Conference in Hot Springs, Ark., on Oct. 17 to 18. The conference provided new leadership opportunities and training for stewards to further strengthen the support they provide to our members.
The event had strong attendance with more than half of the local's union stewards present, including those who represent members who work at Kroger, Tyson Foods, Conagra Brands, Tankersley Foodservice, Wayne Farms and the Bionetics Corporation.
Conference workshops ranged from "Mobilizing the Membership" to "Screening Gripes From Grievances and Knowing Your Contract." UFCW Local 2008 stewards enjoyed being able to speak with one another about the challenges they work to solve in their workplaces. The stewards also found the workshops to be informative and helpful, giving them tips and ideas to become more active in their stores, plants and facilities.
"I look forward to providing additional training in the future," said UFCW Local 2008 President Steve Gelios.