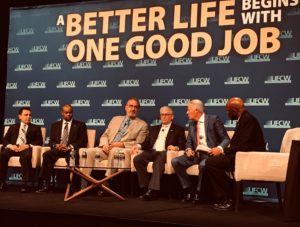 In a rapidly changing retail industry, it's more important than ever to ensure our locals have the resources they need to welcome more workers into our union family and negotiate strong contracts for our members who work in these jobs.
Last week, local union leaders and staff from around the U.S. and Canada met in Las Vegas for this year's retail conference, which focused on successful approaches to organizing and ways to strengthen our ability to negotiate strong contracts.
UFCW International President Marc Perrone opened the conference and spoke about his vision for our union.
"So, as we look ahead to this retail conference, I ask all of you to consider these questions as you attend your various meetings. How can you and other locals negotiate better contracts by working together – across regions? " said Perrone. "How can we organize more workers, through greater coordination and cooperation? How do we communicate better across and within locals, and then echo those messages across every medium? But most importantly, how do we send employers a clear message that they can't divide and conquer this union?"
Conference attendees participated in region-wide and company-wide organizing and bargaining sessions at the conference so that locals with the same parent companies, such as Kroger, Albertsons, Ahold, Macy's and others, can coordinate and communicate with each other and align strategies, contract dates and messaging to give our members even more power at the table. Participants also attended plenaries and workshops on topics such as the Stop & Shop work stoppage; member communications strategies; defending a secure retirement for our members; understanding consumers in the retail industry; and successful approaches to organizing workers through member-to-member outreach.
In addition to Perrone, Executive Vice President and Director of National Bargaining Milton Jones and Director of Organizing Todd Crosby spoke about their goals for negotiating stronger contracts and strengthening our ability to organize more workers in the retail industry.
"Now, across retail, the simple fact is that we face an ongoing era of dynamic market change," said Jones. "And, as such, we must rethink our future strategies – from how we bargain to the very structure of the benefits we bargain for. Because if there is one area that we must agree on it is this: The benefits and wages we bargain for must set a higher standard. A union job must be mean something more than a non-union job. That is our fundamental mission today, and it must be our fundamental mission tomorrow."
"We are going to have to combine capital strategies, community allies, and worker leadership to win these organizing campaigns," said Crosby. "A successful campaign begins and ends with real problems at the workplace that workers need to resolve through organization and collective bargaining….From there, we can organize around those issues with community allies and customers….With smart capital strategies, rock solid unity with the community, and workplace leadership development, there is no doubt in my mind that we can win!"