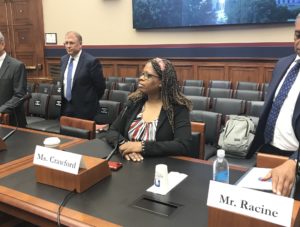 In September, the International's Legislative and Political Action Department (LAPAD), in coordination with the UFCW Western States Council, arranged for a worker in the "gig economy" to testify before the House Committee on Education and Labor Subcommittee on Workforce Protections.
Maria Crawford, a gig worker from Altadena, Calif., spoke about her experience working for Instacart and other online work platforms as an independent contractor during a hearing on the "Misclassification of Employees: Examining the Costs to Workers, Businesses, and the Economy." During her testimony, she called on members of Congress to support the Payroll Fraud Prevention Act, which makes it unlawful to discriminate against an employee or non-employee who has filed a complaint with respect to their employment classification, and wrongly classify an employee as a non-employee.
"I am a proud wife of 25 years, a mother of two adult daughters, and a grandmother to two beautiful grandchildren," she said during her testimony. "I worked in the I.T. field for a utility company for over 15 years, but lost my job to outsourcing. At the age of 54, I have found it difficult to start a new career. This difficulty, as well as the promise of good wages and flexible scheduling, brought me to the field of online platform work, often referred to as 'gig work.'"
"While I spend most of my 'gig work' time on the app Instacart, I also do work for Postmates, Door Dash, Caviar, and Uber Eats. All of these platforms classify me as an 'independent contractor,' but I believe I am a misclassified employee. That misclassification makes it hard for me to get the protections that would help make sure I have fair, steady pay…."
"Initially, I found the pay on these platforms to be good, but over time, I found it more and more difficult to earn a living wage, despite it being my primary job and income that my family relies on. I think that they are misclassifying me as an independent contractor which means I am losing out on protections that could help make sure I have fair pay and hours."
You can learn more about the Payroll Fraud Prevention Act here. A full transcript of Crawford's testimony is available here.