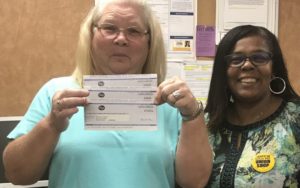 UFCW Local 400 member Claudia McCann recently won her job back at Kroger #532 in Virginia Beach, Va., and $34,485 in back pay.
It all started with a disagreement that McCann had with a co-worker behind closed doors, not on the floor of the Virginia Beach Kroger store, where they worked. It didn't seem like a big deal until the co-worker reported the incident to management.
"She said I disrespected her," McCann said. "I did no such thing."
She went to the store manager, who took it to corporate and said she would be suspended pending an investigation. With more than 20 years under her belt at Kroger and a spotless record, McCann was taken aback by her suspension.
"I was like, 'What is going on?'" she said. "For a company the magnitude of Kroger to leave an employee with so many years of employment hanging like that, it really shocked me."
The suspension dragged on and on with no end in sight. "At one point, they told me they sent a letter of termination," McCann said. "I never got it. And when I asked for a copy, they couldn't find it. They were thinking I would back down, but I was not backing down—I didn't do anything wrong."
Fortunately, McCann's representatives, Misty Wrenn and Robert Brown, filed a grievance, pursued her case aggressively, and eventually took it to arbitration. The arbitrator found that the punishment did not fit the "crime" and a verbal warning or even probation would have been more appropriate. Kroger was ordered to give McCann her job back and pay her in full for the entire year's duration of her suspension.
"When they called me and told me I got my job back, I thanked them over and over and over again," McCann said. "It really shows that our union really does fight for us and goes right to the core of what we need. Local 400 did it for me and I am grateful."