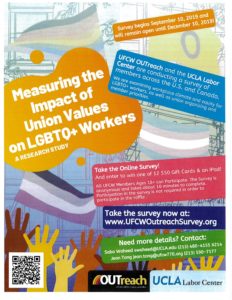 UFCW OUTreach, in partnership with the UCLA Labor Center, is studying the workplace experiences of LGBTQ+ workers represented by the UFCW in the U.S. and Canada. UFCW leadership and members are encouraged to participate in the study, which will affect all of our members, by taking two separate surveys.
The study, titled "Measuring the Impact of Union Values on LGBTQ+ Workers," will examine the impact of union values on LGBTQ+ workers, as well as union organizing and member priorities related to LGBTQ+ issues. The data will be compiled into a final report that will be released next year in the spring and will help direct the work of UFCW OUTreach moving forward.
"Our hope is to document the value of union representation to UFCW LGBTQ+ members; gauge interest and gain traction for our 2020 political program; and help determine the continued direction of the efforts of UFCW OUTreach to best serve our union and all our members," said UFCW OUTreach Chair Michele Kessler.
From now to December 10, 2019, UFCW leadership and members are encouraged to take part in this study by participating in 10-minute surveys. The surveys are anonymous and UCLA researchers will do the post survey analysis.
You can access the leadership survey here and the membership survey here. You can also enter to win monthly raffle prizes of $50 gift cards (four per month), plus a grand prize of an iPad. The last day to complete the surveys is December 10, and you must be 18-years-old to participate.
For more information, contact Michele Kessler at mkessler@ufcw1776.org or Jean Tong at jean.tong@ufcw770.org.