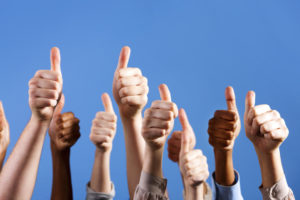 A new Gallup poll shows that 64 percent of Americans approve of labor unions–making this a great environment for organizing campaigns and reaching out to potential members. This is one of the highest approval ratings for unions that Gallop has recorded in the last 50 years.
According to the poll, approval for unions has only occasionally surpassed 60 percent since 1967, and the lowest union approval ratings for unions occurred from 2009 to 2012 during years of high unemployment following the Great Recession.
Higher public support for unions in recent years reflects the improved economic conditions and low unemployment rate. Support for unions is also strong across party lines with Democrats, Republicans and Independents all more likely to have a positive view of unions than they were ten years ago.
The poll found that union affiliation drives public approval of unions, and 86 percent of adults in the U.S. living in a household with a union member approved of unions, compared to 60 percent of adults in nonunion households.
UFCW locals are encouraged to use this information to strengthen organizing campaigns. You can view the Gallup poll here.