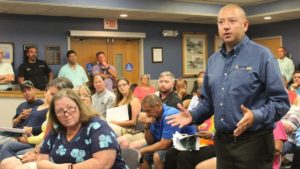 Staff members from UFCW Local 152 recently attended a Middle Township Committee meeting in Middle Township, N.J., in support of a proposal for a medical cannabis facility in the area.
UFCW Local 152 Union Representative and Organizer Hugh Giordano spoke in support of the plan to build a new facility to grow and sell medical cannabis products, saying that it would bring good, high-paying jobs to the Middle Township area. UFCW Local 152's support of the medical cannabis facility helped to influence the Middle Township Committee to unanimously approve issuing a letter of support for the proposal. The committee meeting and Giordano's remarks were covered by the The Press of Atlantic City.
UFCW Local 152's support of the medical cannabis facility in Middle Township is part of their Cannabis Campaign—a larger effort to build a successful cannabis industry and grow our union family wherever cannabis is legalized.
UFCW Local 152 is committed to standing with cannabis workers to not only create good jobs, but to also represent them so that their employers provide the good wages and benefits they have earned, and the fair treatment in a safe work environment they deserve. You can learn more about UFCW Local 152's effort to support cannabis workers in their area here.