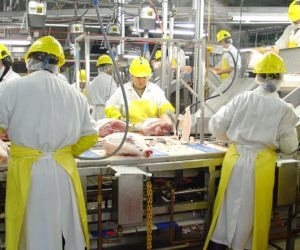 A new poll by Hart Research Associates shows that a strong majority of Americans in all parts of the country and across party lines oppose the U.S. Department of Agriculture's (USDA) proposal to weaken food safety standards by eliminating line speed limits and drastically reducing inspections at pork processing plants.
The recent USDA proposal would cut federal safety inspectors at processing plants by 40 percent and would allow the slaughter line speeds to run at any speed the company wants. Both of these changes would endanger the safety of these workers and the food millions of Americans across the country count on to feed their families every day.
According to the poll from Hart Research Associates, 64 percent of Americans "opposed the USDA's proposal to eliminate the speed limits on pig slaughter lines." Opposition was strong across all party lines with 69 percent of Democrats, 66 percent of Independents, and 58 percent of Republicans agreeing that speed limits should remain in place.
Poll respondents in the Midwest, where a large portion of the pork industry is based, expressed even stronger disapproval of the proposal, with 70 percent opposing the proposed changes to plant safety requirements. Additional information about the poll is available here.