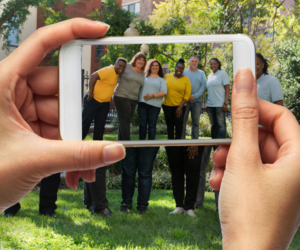 Our members are the heart of our union and telling their stories is key to helping them build a better life. This Wednesday, July 24, our Summer Skills Series webinar will provide locals with easy-to-use tips on how to create high quality member-driven photo and video content using just your phone.
This webinar, hosted by the UFCW Communications Department, will be held on Wednesday, July 24 at 3:30 p.m. ET and local communicators and organizers are encouraged to participate, as well as anyone who is in contract negotiations, as member stories are the most effective means of storytelling in the ever-growing digital landscape.
This webinar will help locals learn about best practices for photographing and filming using the iPhone, including how to capture images and frame interview subjects for testimonial videos, plus recommended audio enhancements and apps for editing within the iPhone directly.
The webinar will break down the three phases on content gathering:
Pre-production (including storyboarding and interview techniques);
Production (simple, but effective techniques and equipment to use in the field); and
Post-production (how, where and when to post your content) in a simple and usable way for anyone in the field to capture and share dynamic member stories and digital content.
"This is an opportunity for communicators, organizers and anyone in negotiations to learn how to use iPhones to create images that convey to members and potential members the value of belonging to our union family," said Director of Communications Erikka Knuti.
Previous webinars hosted by the UFCW Communications Department for the 2019 Summer Skills Series focused around negotiations and included: best practices for communications during negotiations; how to collect and maintain clean member data pre-bargaining; and how to design easy to make flyers and graphics using Canva.
If you have any questions or to register for the iPhoneography webinar on Wednesday, July 24 at 3:30 p.m. ET, contact Jess Raimundo in the UFCW's Communications Department at jraimundo@ufcw.org.