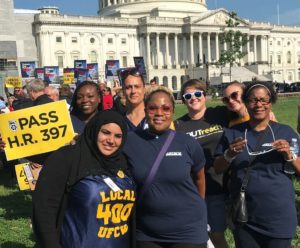 In coordination with the International's Legislative and Political Action Department, members of UFCW Local 400 rallied in front of the U.S. Capitol on July 10 in support of the Rehabilitation for Multiemployer Pensions Act (H.R. 397), which would help sustain ailing pension plans for over one million American workers. The legislation is also referred to as the Butch Lewis Act in honor of the late Teamster who was an important leader in the pension protection movement.
H.R. 397, sponsored by Rep. Richard E. Neal (D-Mass.) and Rep. Peter King (R-N.Y.), would help financially ailing multiemployer pension plans with 30-year repayable federal loans from a trust fund in the Treasury Department. Those plans seeking aid would have to prove the money would keep them solvent and able to provide current benefits.
Congressmen Neal and King spoke about their bill at the rally and other members, including Representatives Debbie Dingell (D-Mich.), Danny Davis (D-Ill.), and Tom Suozzi (D-N.Y.), attended in support of passing the legislation. Butch Lewis' widow was also in attendance at the rally. Afterwards, members of UFCW Local 400 joined hundreds of other union members and supporters of pension reform at the House Committee on Ways and Means hearing about the legislation.
"This is about keeping promises and protecting our members," said UFCW Local 400 Organizer Kayla Mock. "This bill would help secure the retirement for thousands of hard-working UFCW members."
"Should we ever get in trouble, we want this to be there for us," said Amber Stevens, a UFCW Local 400 member who works at Shoppers Food & Pharmacy in Forestville, Md., in an interview with People's World. "When one is hurt, we all are hurt."
"Political rallies like the one we worked with Local 400 on, along with lobby days, are an effective way to make our voices heard," said International Vice President and Director of the Legislative and Political Action Department Ademola Oyefeso. "I encourage all locals to work with the International to support worker-friendly legislation at all levels of government."
If your local is interested in coordinating a political rally or lobby day with the Legislative and Political Action Department, contact your region's political coordinator.  If you are unsure who your political coordinator is, please contact Karen Gasper at kgasper@ufcw.org.