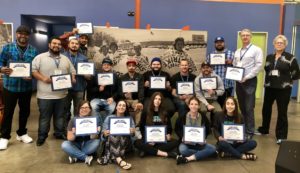 In California last month, the UFCW hosted the state's first industry-specific 30-hour Cal-OSHA trainings for cannabis workers to help increase job skills and strengthen workplace safety. The trainings were held in coordination with the International's Occupational Safety and Health (OSH) Office, the UFCW Western States Council, and UFCW Local 770.
"It is very exciting to be a part of this groundbreaking training and to know that the health and safety of our cannabis members is being addressed directly by UFCW trainers by providing an industry-specific curriculum," said Paul Edwards, who is the director of training and development at UFCW Local 770.
Over 30 union cannabis workers and representatives from UFCW Locals 8GS, 324, 770 and 1167 attended the trainings during the weeks of June 10th and June 17th at UFCW Local 770's Ricardo F. Icaza Workers' Center.
"California's cannabis industry creates thousands of jobs where workers must know how to be safe and how to report violations," said Amber Baur, the executive director of the UFCW Western States Council. "We are proud to be part of these innovative trainings so workers can gain familiarity with their responsibilities and safe practices under Cal-OHSA, saving lives and preventing needless harm."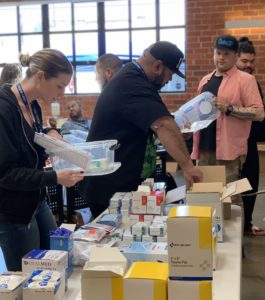 Last year, the UFCW Western States Council helped to pass AB 2799, legislation that requires licensed cannabis businesses in California to have at least one employee and one supervisor complete the 30-hour Cal-OSHA course within one year of licensure.
"By developing training that is state-specific, industry-specific, and meets the specific needs of workers in the cannabis industry, we know that UFCW members attending these trainings will be safer and the industry will be safer. This training can serve as a model for the rest of the country," said Robyn Robbins, director of the OSH Office.
The Cal-OSHA training helps ensure licensed cannabis businesses are in compliance with job-related safety and health hazards. Belinda Thielen, assistant director of the OSH Office, toured and interviewed members of our union family at various cannabis workplaces in preparation for the trainings, including dispensaries, cultivation sites, and processing facilities throughout California. These tours and member interviews assisted in the development of an industry-specific health and safety curriculum that addressed cannabis workplace and safety issues during the trainings. Some of these issues include writing a workplace-specific Injury and Illness Prevention Plan, workplace violence prevention, fire prevention, and Emergency Action Plans.
The UFCW Western States Council is coordinating additional Cal-OSHA trainings for our cannabis members throughout California as this industry continues to grow.