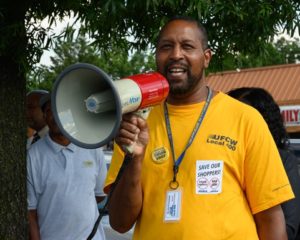 Hundreds of Shoppers Food & Pharmacy workers represented by UFCW Local 400 – along with community leaders, other union activists and public officials – rallied in front of the chain's Coral Hills, Md., store on June 26 to protest the potential closure of all stores in the area.
All Shoppers Food & Pharmacy stores in Virginia, Maryland, and Washington, D.C. are at risk of closing due to a decision made by corporate executives at Shoppers' parent company, United Natural Foods Inc. (UNFI). Participants and speakers at the rally called on the company to ensure these locations remain grocery stores with strong union jobs.
"Prince George's County has a problem already with food deserts, food swamps and not enough good paying jobs for our residents," said County Councilwoman Jolene Ivey (D-5). "So this is a double whammy. We need to protect people's access to groceries and the right to good jobs. We need to make sure that we have a quality grocery store here that's a union shop. We need both."
In 2018, UNFI purchased Supervalu, the parent company of Shoppers, and immediately announced their intention to divest all of their retail operations, including Shoppers, as quickly as possible. Since that announcement, the people who work at Shoppers and the communities they serve have been left in limbo, not knowing what is going to happen to the good, union jobs and quality food options that have strengthened their neighborhoods for decades.
"I've worked at Shoppers for 11 years," said Amber Stevens, a Local 400 member who works at Shoppers #2669 in Forestville, Md. "It's my livelihood. It pays all of my bills. Not knowing if I'm going to be able to provide for my family makes me uneasy. When they decided to sell the stores, they should have informed their loyal employees. They should have informed us first. I hope that we can keep our stores and find union buyers — that would be a great outcome."
"To be clear, Shoppers is not bankrupt or going out of business," said UFCW Local 400 President Mark Federici. "Their parent company is simply determined to sell these stores, regardless of whether or not they are profitable. The loss of these grocery stores and the union jobs they provide would be devastating for these communities."
"Our members have been left in the dark for far too long," added Federici "After decades of faithfully serving the community, it is irresponsible to leave these hard-working men and women to wonder what the future will hold. We are calling on the company to ensure that these locations remain grocery stores with strong union jobs."