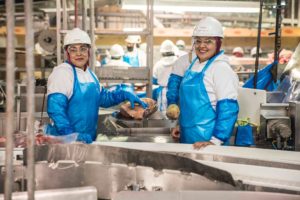 UFCW International President Marc Perrone supported the U.S. House Appropriations Committee for taking steps this month to protect the safety of food and workers at our country's swine slaughter plants.
With the goal of putting workers and families first, the amendment passed by the committee and championed by U.S. Representatives Rosa DeLauro (CT-03) and David Price (NC-04) aims to halt the U.S. Department of Agriculture's (USDA) Modernization of Swine Slaughter Inspection rule that increases pork plant line speeds and puts American workers and consumers at risk.
The amendment would prevent the USDA from spending funds to implement the rule. Perrone's statement reads as follows:
"America's food safety and the safety of the workers who produce our food must never take a backseat to corporate profits. Today's vote to defund this dangerous line speed rule makes clear that Congress is ready to honor that commitment and the USDA must do the same.
"Increasing line speeds needlessly threatens the quality and health of America's food supply and cruelly endangers the lives of workers who help produce that food. The proposed USDA rule would dramatically weaken protections that Americans depend on to be able to select safe, healthy food to feed their families every day.
"Our members in pork plants nationwide understand from firsthand experience that the USDA's proposed rule would hurt workers, consumers, and our economy. We urge the USDA to stop this rule and do its job to protect American workers and consumers."