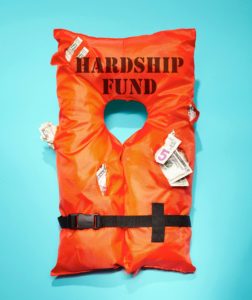 Helping members of our union family during uncertain times is one of our core values. During the Stop & Shop work stoppage in New England, which involved 31,000 of our members and lasted for 11 days, the International raised funds to help our members pay for housing, utilities and other essential expenses when they needed it the most. Since many of our members are preparing to negotiate new contracts this year, the International worked with different law firms to craft updated legal guidelines to help all locals be prepared and establish hardship funds to assist our members with financial challenges they might face in the event of a work stoppage or other hardship.
The new Hardship Fund Guidelines include:
• Suggested language for a statement of purpose;
• Contribution and disbursement instructions;
• Instructions for an online donation page, such as Gofundme.com; and
• Instructions for a letter or email donation request.
"Having a local Hardship Fund in place is a very important step in the event of a job action or natural disaster," said International Vice President and Director of Region 1 Dave Young. "We were very fortunate during the New England Stop & Shop strike in that we received overwhelming support and generosity from our communities, other labor and allied organizations, and most importantly, the customers.
"Many of them did not just want to simply honor the picket lines or walk them with us, they also wanted to donate money to assist our members financially during their time of need," Young added. "Having a Hardship Fund at your local is the safest and fastest way to take in those donations and get them out to the members of our union family that require additional assistance. It is a critical component towards planning for success."
"I encourage all locals to contact their Regional Directors and set up hardship funds well before a labor dispute or other actions take place," said International Secretary-Treasurer Shaun Barclay. "It can take up to a couple of weeks to set up these accounts and another two weeks to have checks printed, and it's important that we're ready to act quickly and help our members without any delays."
The Hardship Fund Guidelines are available here. If you have any questions about the guidelines, contact Joey Hipolito or George Wiszynski in the Legal Department at jhipolito@ufcw.org and gwiszynski@ufcw.org.