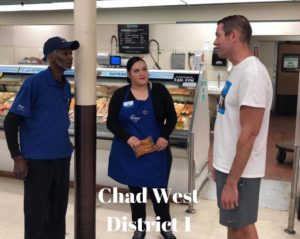 UFCW Local 1000 members recently hosted eight endorsed Dallas candidates for city council and mayor at local Kroger stores for tours and one-on-one discussions with workers ahead of the city's May 4 election.
Each candidate spent an hour walking through a store and talking with UFCW Local 1000 members one-on-one about the issues affecting their lives. Candidates learned about the issues our members care about, as well as how critical our union is in representing those members at the workplace and why it's so important to have a union grocery store in their communities. The events were a way to make sure that local elected officials heard directly from the workers they hope to represent.
Anthony Elmo, political and communications director for UFCW Local 1000, asked that any candidate seeking the union's endorsement take the time to visit an area worksite so they could hear directly from their membership.
"Elected officials should campaign for votes where hard-working families bring home the bacon," Elmo said. "They need to meet us on the shop floor and understand our issues."
Chad West, who won the open seat in Dallas City Council District 1, left the visit with a deeper understanding of our union and the workers we represent.
"It was great getting to talk with people in my district who live and work in this community. The majority of the people in my district are working people and it's good to know that they have a union like UFCW Local 1000 looking out for their best interests and engaging them in the political process," West said. "I look forward to working with Local 1000 and representing your membership as a member of the Dallas City Council for years to come."
One of the most important issues was the paid sick leave ordinance that the Dallas City Council passed by a 10 to 4 vote on April 24, which requires employers to credit their employees with one hour of paid sick leave for every 30 hours they work. Members at every stop let the candidates know how they felt about this important issue in advance of the election, and UFCW Local 1000 member Candice Oglesby, who works full-time as a florist at Kroger in Oak Cliff, was interviewed by ABC News 8 about the ordinance.
Local 1000 members played an integral role in pushing for the Dallas ordinance over the last year, working with coalition partners from local unions and community groups. The ordinance is likely to face legal challenges, as well as an attempt by the state legislature to nullify the law, but the hard-fought victory was a huge win for working people in Dallas.
"Paid sick time in Dallas is an amazing victory for grocery workers. Our members will directly benefit from this policy as the new floor for future contract negotiations," said Elmo.