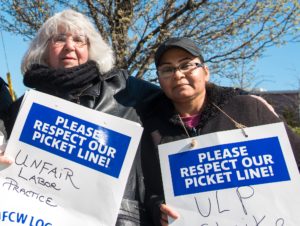 With 31,000 UFCW members at Stop & Shop walking out this month to protest cuts to health care and benefits, it's a good time to review the basics about unfair labor practice (ULP) work stoppages. To help our locals and members, the International has prepared an easy-to-use guide. A ULP work stoppage occurs when employees cease working in response to a company's unfair labor practices. The ULP does not have to be the sole or predominate cause and economic reasons can motivate workers much more than the ULPs.
What's important is that ULPs actually motivated workers, and not just that a ULP preceded the work stoppage. When deciding whether ULPs motivated the work stoppage, the National Labor Relations Board (NLRB) focuses on the circumstances surrounding the decision of workers to walk out of their places of work (for example, statements made during work stoppage meetings).
Messaging: A work stoppage can be a ULP work stoppage even if its primary message is economic or something other than the ULP, as long as the union sets up and conducts the work stoppage so that workers are aware of at least a few ULPs and that part of the work stoppage's purpose is to protest ULPs. Conversely, messages that emphasize ULPs will not necessarily establish a ULP work stoppage if workers were barely aware of ULPs, even if their picket signs stress ULP messages.
Recommendations: To maximize the chances that the NLRB will find that the context of the work stoppage shows that ULPs at least, in part, motivated workers, unions should be sure to do certain things, including:
• Discuss ULPs during work stoppage meetings. Speeches, scripts, talking points and PowerPoint presentations should refer to ULPs.
• Distribute materials explaining the ULPs and their importance to members.
• Mention ULPs in picket instructions and picket line talking points.
• Some picket signs, handbills and chants should mention ULPs.
• Workers should mention ULPs if they speak to the media, even if they emphasize other messages.
Practical problems make it difficult for retail companies to replace workers who participate in sympathy work stoppages. The point of ULP work stoppages is, of course, that companies may not permanently replace ULP workers. However, a union doesn't know if a work stoppage is a ULP work stoppage until the NLRB or an appeals court finally rules that the company committed ULPs and that workers took action because of the ULPs.
There may be a better way to protect workers who participate in work stoppages against retail companies. Because the NLRB requires companies to recall workers to any available substantially equivalent job, retail companies must reinstate almost every worker because high employee turnover in retail results in numerous vacancies and most retail jobs are similar enough to be equivalent to each other. And, even if no substantially equivalent jobs are available, companies must offer workers other jobs that they are interested in. Workers who work these less desirable jobs continue to hold the right to an equivalent job when one opens up. So, even if retail companies can "permanently" replace workers that participate in work stoppages, there are other legal requirements unions can use to get workers back to work.
Basic guidelines about ULP work stoppages are available in the updated publication, titled How to Use the Law to Better Organize, Bargain and Represent Workers: The ABCs of Labor and Employment Law, here. You can find information about ULP work stoppages on page 139.
A paper that was prepared for the 2017 UFCW Attorneys' Conference regarding retail companies and work stoppages is available to locals. To obtain this document, visit www.ufcwlegal.org and click on the "new user registration" link.  The website is restricted to all attorneys who represent UFCW Locals or International and UFCW Local Union and International staff. If you have any questions or need more information, contact George Wiszynski in the International's Legal Department at gwiszynski@ufcw.org.