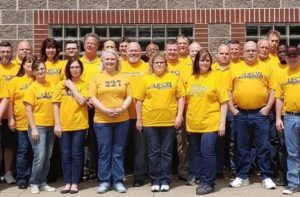 Pay increases for members of UFCW Local 227 who work at Kroger in Kentucky and southern Indiana have been approved thanks to a new contract that was ratified on April 18.
The four-year agreement, which covers more than 13,500 members, boosts pay for cashiers, new workers, and veteran stock clerks, and creates new leadership positions in selected parts of the stores. Health care benefits will also be available for part-time workers and new hires. The new contract also protects the workers' pensions. Full-time hourly Kroger workers can become vested after five years and part-time members also get a pension if they average 72.5 hours a month.
"It's the best contract I've seen in years," said Kroger employee and UFCW Local 227 member Elisa Messex in an interview with The Louisville Courier Journal.