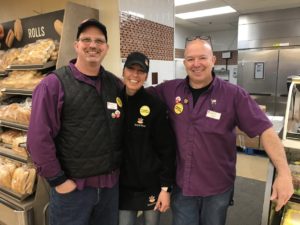 As negotiations with Stop & Shop continue in New England, the International is urging all locals and their allies to support the 31,000 members of our union family who work at Stop & Shop as they stand together for a contract that recognizes their hard work and dedication.
On April 11, these brave women and men, who are members of UFCW Locals 328, 371, 919, 1445, and 1459, walked off their jobs at over 240 Stop & Shop stores in Connecticut, Massachusetts and Rhode Island to protest the company's proposed drastic and unreasonable cuts to health care and retirement benefits and take-home pay. They are also protesting Stop & Shop's unfair labor practices, including refusing to provide our union with financial information to verify the company's claim that cutting benefits was necessary to stay "competitive." In addition to hurting our members' ability to support their families, the proposed cuts by Stop & Shop, whose parent company earned $2 billion in profits in 2018, would also have a negative and severe impact on customer service by impacting the very cashiers, stockers, bakers, deli clerks, and butchers that Stop & Shop customers rely on.
These hard-working members of our union family have been trying to negotiate a fair contract with Stop & Shop since Jan. 14 and deserve better. Since the work stoppage, staff members from the International have coordinated with locals, allies, community groups, politicians, Stop & Shop customers and members of the press so that our members know they are supported during this difficult time. One of the materials the International has created is an online solidarity petition, so that we can show Stop & Shop that support for these workers is building. You can sign this petition here. You can also read a joint statement from the five UFCW locals regarding the fight for a fair contract here. All locals will be getting an appeal for hardship funds in the coming days.
By standing together, we can show Stop & Shop that it's time to reach a fair contract agreement that reflects the true value of our members.