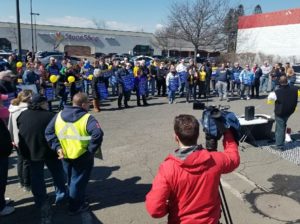 A rally in western Massachusetts on March 20 united customers, local leaders, teachers, and community members in support of Stop & Shop workers in the push for a new contract that honors the hard-working women and men who have made the grocery chain one of the most successful in the country.
Hundreds of members of Local 1459 helped lead the rally outside of the Stop & Shop store in Chicopee, Mass. They were joined by Springfield City Council Member Jesse Lederman, a representative from the office of Senator Eric Lesser, and members of the Massachusetts AFL-CIO, SEIU and Jobs With Justice.
UFCW Local 1459, along UFCW Locals 371, 328, 919 and 1445, have been united in working to secure a new contract with Stop & Shop that invests in workers and strengthens our commitment to delivering the very best service to the communities we serve. Negotiations began on January 14. Together, all five locals represent over 31,000 Stop & Shop workers.
New England communities know that Stop & Shop's plan to drastically cut the number of full-time jobs will mean less customer service in the aisles, fewer products on the shelves, and longer lines at checkout. Our members want to be able to provide the very best service for their customers while still being able to provide for their families
"Stop & Shop is a neighborhood store and it is our members who provide quality service and food every day that keep our friends, families, and neighbors coming back," said UFCW Local 1459 President Tyrone Housey. "Today's event makes it clear that the community also values good service and wants Stop & Shop jobs to be jobs where people can work hard and build a better life."
The Massachusetts, Connecticut, and Rhode Island AFL-CIO organizations recently sent a letter in support of the five locals' pursuit of a fair contract. The letter states: "Together, we represent approximately 700,000 union members across Connecticut, Massachusetts, and Rhode Island. You have the full weight of the labor movement behind you in your struggle for as long as it takes."
Jobs With Justice and other community allies held another rally in support of Stop & Shop workers in Somerville, Mass., on March 23.