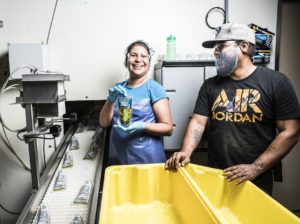 The International's Legal Department has created a new legal guide to help UFCW stewards enforce our contracts and protect our members' rights in the workplace.
The guide, titled How to Enforce Workplace Rights and Fix Workplace Problems: A Steward's Legal Guide, provides stewards with easy to understand steps to help them resolve workplace problems, navigate the grievance process, and investigate grievances. The guide covers the company's obligation to talk or negotiate with the union and stewards about bargain employment terms, as well as the duty of fair representation. It also provides an overview of Weingarten rights, or the rights of members to have a steward or union representative present during all meetings or discussions with any manager or supervisor that might be related to or lead to discipline.
Most importantly, the guide emphasizes that stewards are – by law – on the same level with supervisors and managers. Supervisors and managers must treat stewards equally, and stewards do not have to defer to supervisors or managers. While they should act respectfully and professionally, stewards can and should speak up and underscore the point that they and our union are in the position to tell the company what the contract means, what violates our contract, and what problems members can grieve, not the other way around.
"Stewards in Region 6 have used this guide to help them protect our hard-fought contracts and make sure our members are treated with respect and dignity in the workplace," said Director of Region 6 Tish Ramirez. "I encourage stewards in every region to take advantage of this easy to understand guide."
You can access a copy of How to Enforce Workplace Rights and Fix Workplace Problems: A Steward's Legal Guide here. If you have any questions regarding this guide, contact George Wiszynski in the Legal Department at gwiszynski@ufcw.org.