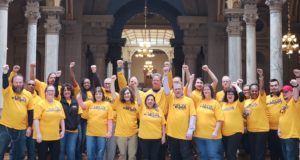 In coordination with the International's Legislative and Political Action Department, UFCW locals are holding lobby days at their state legislatures to protect the rights of our members and all workers in their respective states.
UFCW Locals 75 and 227 are taking a stand against an anti-worker insurance bill, which is moving in both chambers of the Kentucky State Legislature (HB 317 and SB 171). This legislation would cut the amount of a worker's weekly unemployment insurance benefits by 25 percent every five weeks. This legislation would also cut the number of weeks that a worker could receive these benefits from 26 to 20 weeks, which would have an adverse effect on Kentuckians who live in economically distressed communities and need more time to find a suitable new job. In February, both locals also lobbied together in support of another piece of legislation to protect workers in the state–the Kentucky Pregnant Workers Act (SB 18), which would require employers to provide reasonable accommodations for pregnant employees, including more frequent or longer breaks, time off to recover from childbirth or a temporary transfer to less strenuous duties.
"Providing common sense accommodations for pregnant workers is just that, common sense," said UFCW Local 75 President Kevin Garvey. "I applaud the members of the Kentucky Legislature for taking an important step towards ensuring babies are born healthy and avoiding unnecessary medical complications for Kentucky's working mothers."
UFCW Local 227 also joined together with UFCW Local 700 in a day of action at the Indiana State Legislature last month in support of similar legislation–the Pregnant Workers' Bill of Rights. This legislation has been introduced in both chambers (HB 1073 and SB 590) and would prohibit an employer from discriminating against a pregnant job applicant or employee. This legislation would also require an employer to provide reasonable employment accommodations for a pregnant employee, including giving them breaks from sitting or standing for long hours and helping them avoid chemicals, radiation, or other hazardous substances.
"Pregnancy accommodation is good for workers and good for business; family-friendly workplaces see increased productivity, loyalty, and retention of employees," said UFCW Local 700 President Joe Chorpenning. "Twenty-three states have already passed laws to provide a clear and consistent standard for employers."
"Most accommodations are free or low cost but are invaluable for the hard-working women and their families who will benefit," said UFCW Local 227 President Bob Blair. "The personal stories and passion for this issue is what will move the legislation."
If your local is interested in coordinating a lobby day with the International's Legislative and Political Action Department, contact your region's political point person in the department. If you are unsure who that is, reach out to Political Director Karen Gasper at kgasper@ufcw.org.