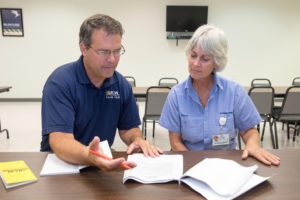 The International's Legal Department has updated a how-to book on labor and employment law to help locals use the law to strengthen their ability to negotiate strong contracts, represent members, organize, protect members' rights and otherwise challenge employers.
The publication, titled How to Use the Law to Better Organize, Bargain and Represent Workers: The ABCs of Labor and Employment Law, has been updated to include the rights of unions to access company property, and to strike or picket for bargaining and organizing. The book discusses collective bargaining, including the company's broad obligations to discuss all working conditions (inside and outside of contracts) and to provide information and documents.
The book also covers the rights of members to insist that a steward or union representative be present during meetings or discussions with managers and supervisors (known as Weingarten rights), and to distribute, talk, solicit and wear stickers and buttons to organize and mobilize at the workplace. In addition, the book covers less familiar laws, such as defamation or the law relevant to communications unions issue to the general public or members, and election law.
The book reviews other federal and state laws that regulate workplace and worker rights relating to wages, workplace safety and discrimination. The laws include the National Labor Relations Act, Occupational Safety and Health Act, Americans with Disabilities Act, Family and Medical Leave Act, wage and hour laws, Equal Pay and the Lilly Ledbetter Fair Pay Act, and Title VII of the Civil Rights Act of 1964.
"This how-to book about labor and employment law is easy to understand and has helped locals in Region 6 organize workers and bargain stronger contracts," said Director of Region 6 Tish Ramirez. "I encourage locals in all regions to take advantage of this free resource from the International."
How to Use the Law to Better Organize, Bargain and Represent Workers: The ABCs of Labor and Employment Law is available here. If you have any questions about this publication, contact George Wiszynski in the International's Legal Department at gwiszynski@ufcw.org.