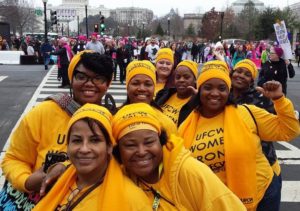 UFCW members are encouraged to attend the 2019 Women's March, which will take place on Saturday, Jan. 19 in Washington, D.C. and other locations.
Many of you joined us during the historic Women's March in 2017, where we helped send a bold message that women's rights are human rights and that women will not sit down and be quiet.  That message continued during the 2018 midterm elections as the UFCW Women's Network helped to elect over 100 women to Congress to fulfill the promise of equality and inclusion for all people in this country.
The 2019 Women's March will continue to unify those who defend human rights and include a policy platform and a "to do" list" for elected officials that women helped elect to office.  If you're unable to attend the march in Washington, D.C., you can participate in one of the sister marches that will take place in a number of locations throughout the U.S. and Canada.
Additional information about the 2019 Women's March can be found here. For information about UFCW gatherings at the march in Washington, D.C. and other locations, please contact UFCW Women's Network International Chair Rhonda Nelson at rhondan@ufcw1500.org or International Vice President and Director of the Civil Rights and Community Action Department Robin Williams at rwilliams@ufcw.org.