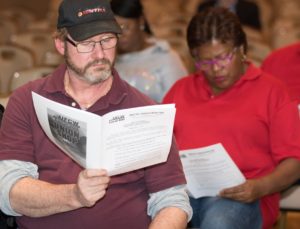 The UFCW's Strategic Resources Department has collected hundreds of bargaining agreements that are available through the UFCW Contracts on the Web database so that locals can access new and improved contract language and negotiate stronger and better contracts for members of our union family. To date, dozens of locals have used this text-searchable database to review U.S. contracts for specific language in UFCW-represented industries in preparation for first contracts or to strengthen language in existing provisions.
This database is updated regularly by the Strategic Resources Department, with oversight from the UFCW's National Bargaining Department, and allows locals to access entire contracts or specific provisions and language by clicking the site's "Contract Directory" button. The "Contract Directory" section also includes suggested contract language from the UFCW's Legal Department, which addresses over 50 contract clauses ranging from access to discrimination to technological changes in the workplace, to help locals start the negotiating process with favorable, pro-member language.
During negotiations, locals improve contract language and raise standards across the country. The language submitted to the International in the contract directory is truly a collective and mutually beneficial effort. To that end, locals are encouraged to use the UFCW Contracts on the Web database regularly and fill out the contract reporting form electronically so that other locals have access to new language and provisions.
"Region 6 is proud to have contributed so many contracts to this database and we encourage locals in other regions to do so," said Director of Region 6 Tish Ramirez. "By sharing information and best practices, we can continue to negotiate the better contracts our members have earned and deserve."
This database is available to staff members only and requires an assigned username and password. If you do not have a username and password combination, click the "Register as a New User" link under the login section.