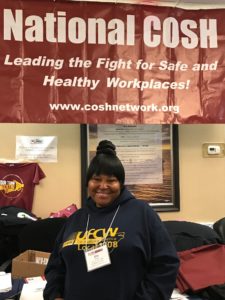 Over the past year, the International's Occupational Safety and Health (OSH) Office has held dozens of workshops ranging from two-hour OSH classes for stewards to 10-hour OSHA trainings to 40-hour "train the trainer" chemical awareness sessions, in coordination with the ICWUC. The purpose of these workshops is to ensure that our stewards and members are aware of their rights under the OSH Act, as well as the safety and health protections in their union contracts.
The OSH Office played a prominent role at the National Conference on Worker Safety and Health, which took place at the Maritime Conference Center in Linthicum, Maryland, on Dec. 4 through 6, and focused on safety and health issues in the workplace, including protections for temp and gig workers, the rights of immigrant workers, worker fatality prevention, sexual harassment and violence in the workplace, and the opioid epidemic. The OSH Office made sure staff and stewards from UFCW Locals 400, 770, 1208, 1546 and 1776KS were well represented at the conference to highlight the significant role stewards play in maintaining safety and health workplace standards in all UFCW industries, including retail, meatpacking, health care and food processing.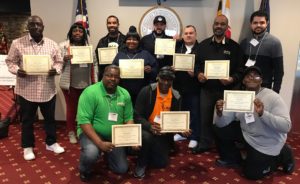 "The conference has been useful because you take the safety and health information you learn back to your fellow union stewards and members," said Ismael Gonzalez, who is a member of UFCW Local 1776KS and a steward at JBS in Souderton, Pennsylvania. "You learn about the laws – the company doesn't tell you about these laws. I will be going back to teach the other stewards. Fight for the union, justice for all."
"The conference has been useful to me because you learn your rights," said Ella Ellerbe, who is a member of UFCW Local 1208 and a steward at Smithfield in Tar Heel, North Carolina. "Safety is the most important thing inside the plant, and it is important to fight for the rights to a safe workplace."
"It is good to meet and be around other people who are as passionate about safety and health as I am," said Johnnie Perry, a business agent and OSHA Liaison at UFCW Local 400. Perry also participated in a "train the trainer" 40-hour chemical awareness session in October.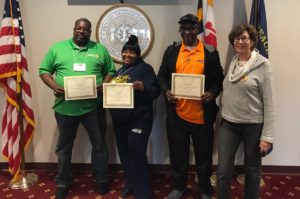 The OSH Office has compiled a safety and health checklist for UFCW stewards here.
The OSH Office is scheduling training sessions for locals next year. If your local is interested in scheduling a safety and health training session, contact Robyn Robbins, director of the OSH Office at rrobbins@ufcw.org or Fernando Tapia, OSH coordinator at ftapia@ufcw.org. You can also sign up for safety and health training sessions here.