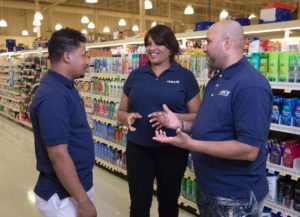 Since February, the UFCW International has partnered with local unions in Georgia, Minnesota, Nevada, Ohio and Wisconsin to have individual worksite conversations with members about the issues that matter most to them and their families. Tens of thousands of conversations with members have happened as a result of this program.
"The heart of this effort was to make our union stronger by engaging members more often on their terms," said UFCW International Legislative and Political Action Department Director Ademola Oyefeso. "The more we can talk with our members about the things they care about the better, because it motivates them to vote and be involved in the political process. We look forward to expanding this effort and expect it to put our union in a position to deliver valuable victories to our members and the communities where they live."
Recent polling has found that union members trust their unions to inform them about top issues more than newspapers or television. The UFCW's own focus groups have also shown that members want us to communicate more with them, not less. This effort takes advantage of those findings to increase the political involvement and impact of our members.
This strategy of leading with issues has been shown to work beyond worksite conversations, as well. From social media posts to Hustle texts, focusing our communications with members around substantive issues puts us in a better position as a union to effectively address or ease the things they're most worried about. Most importantly, this issues-based approach helps to keep members motivated beyond just a single campaign or election and can be carried forward to enhance our organizing and bargaining efforts.
If your local is interested in holding worksite conversations, contact the Legislative and Political Action Department at (202) 223-3111.