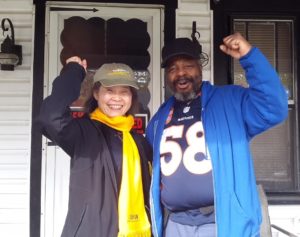 More than 300 UFCW lost-timers visited worksites, knocked on doors and encouraged UFCW members in 26 states to vote leading up to the midterm elections. Their incredible efforts made it easier for UFCW members in communities across the country to exercise their right to cast a ballot for the candidates and causes they believe in.
May Huang, a member from UFCW Local 21 in Seattle, spent the final days of election season canvassing in Ohio and shared a story that reinforces why we do this work.
"I knocked on a door and met a man named Dennis," she said. "Dennis wasn't planning on voting this year. He explained that with all the negative ads on TV, he didn't know which candidates he could trust. I was able to talk with him about the issues he cares most about and where each candidate stands on those topics. After our conversation, Dennis went and voted early."
Thanks to May Huang and all our lost-timers for making a difference and helping to ensure that UFCW members were heard in this election.