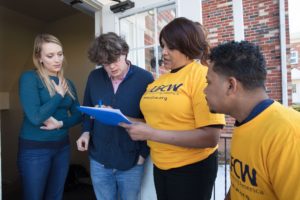 The UFCW's Organizing Department is helping locals grow our union family through an incentive program that offsets the cost of organizing new members.
The incentive program, which was created in 2015, includes a waiver in per capita fees to help offset organizing expenditures so that locals can invest in new or existing organizing campaigns. To date, the UFCW has dispersed over $1.4 million in these per capita fee incentive subsidies to over 30 locals.
The amount of money disbursed depends on the size of the unit organized. To participate in the program, locals must report the organizing win and size of the unit to their Regional Directors. Each unit organized and contracted is eligible for a per capita fee incentive subsidy after ratification.
"This incentive program has helped our local recoup some of the money spent during various campaigns," said UFCW Local 312 President Robert LaSalle. "It's definitely a helpful program."
"UFCW Local 663 knows the way forward to an even stronger union is to welcome more hard-working people into the UFCW family," said UFCW Local 663 President Matt Utecht. "We organize to build power for our membership to create better lives together. The incentive program offered by the Organizing Department is a great opportunity. I encourage any local to take advantage of it that can."
If your local is interested in learning more about this incentive program, contact your Regional Director.