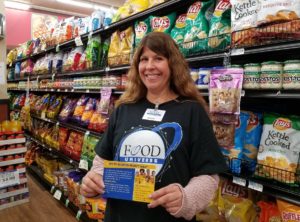 The UFCW Women's Network is reaching out to workers in breakrooms across the country ahead of the midterm elections to encourage UFCW members to vote. This get out the vote effort began in 2016 in coordination with the AFL-CIO's Breakroom Conversations and Pledge Card campaign, which encouraged women to engage coworkers in breakroom conversations about policy issues that working people care about, including fair wages, equal pay, paid sick leave and scheduling, and had them sign pledge cards as a commitment to vote.
The UFCW Women's Network decided to continue the breakroom conversations and pledge cards this year because of the critical nature of the midterm elections. To date, the Women's Network has reached out to members of 23 UFCW locals throughout the country. This effort has resulted in hundreds of pledges by UFCW members to not only vote, but to help our union get out the vote during this important election season.
Kate Uhlenhake, who works at Kroger and is a member of UFCW Local 700, pledged to vote "for gender equality, fair wages and a women's right to choose."
Ayanna Martinez Gamarra, who works for DeCicco & Sons and is a member of RWDSU /UFCW Local 338, pledged to vote because "women fought hard for the right to vote and my vote counts."
"The Women's Network became involved in the breakroom conversations campaign in conjunction with the AFL-CIO back in 2016," said Rhonda Nelson, who is the recorder, trustee and executive vice president at UFCW Local 1500 and serves as the international chair of the UFCW Women's Network. "Because this is such a critical election, the Women's Network decided that we had to once again participate in the process by making every effort to encourage UFCW members to vote and help get out the vote, and the breakroom conversation campaign allows us to accomplish this goal."
You can get more information about the UFCW Women's Network and the important work they do here.