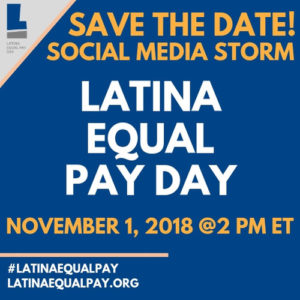 Help us draw attention to pay disparities for Latinas on Latina Equal Pay Day, which takes place on Thursday, Nov. 1.  Although Latinas make substantial contributions to the U.S. economy, they are adversely affected by the gender pay gap and typically earn only 53 cents for every dollar earned by White, non-Hispanic men. Latinas must work more than 23 months to earn what White men earn in 12 months. This disparity in pay hurts not only Latinas, but also significantly impacts the families and communities they support.
Please get involved by joining the Twitter storm (#LatinaEqualPay, #Trabajadoras and #DemandMore) on Thursday, Nov. 1 at 2 p.m. Eastern Time. Additional information about Latina Equal Pay Day is available here.
To commemorate Latina Equal Pay Day, we talked to UFCW Local 1245 staff member Nereyda Curiel, who also serves as a city council member in her hometown of Haledon, New Jersey.
Growing up in a union household, Curiel is familiar with the role unions play in helping hard-working people build a better life, including when it comes to equal pay for men and women.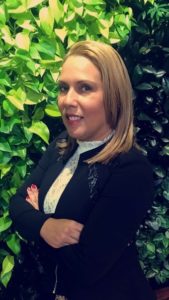 "My mother was a seamstress, and both my parents are immigrants from the Dominican Republic," she said. "I know how important it is for a working family to have those union benefits. I love what our union represents, and I love being a voice for working people—both through the union and as a councilwoman."
Although unequal pay for men and women is "ridiculous," Curiel is well aware of how much it still exists. "We each do the same job—all that should matter is that it's getting done—not who's doing it."
Aside from being in a union, Curiel believes the other best way to ensure equal pay is to get more politically involved, specifically getting registered to vote and voting in the November elections. "Our vote is our voice," she said. "I'm concerned about immigration and family separations—we need to unite people. Right now, anyone who is affected by our current immigration laws—Dreamers included—are pretty much living on standby. My parents came to this country with a dream and a goal to build a better life here; everyone comes here with a dream, even if that's all they have. That's why I get involved, and why I'm so passionate. I know that I can make a difference by voting to elect people who represent us and our concerns."
Curiel hopes to continue helping other Latina women get more involved in both their union and communities this year. "I live in a very diverse area that includes a large Latino population. I want all of them to know that anyone can run for office on some level," she said. "If we want to make change, we need to vote and change the voter turnout."
We are interested in highlighting UFCW members like Nereyda Curiel who are engaged in local union and community activities. If you're interested in sharing your story, please contact Robin Williams (rwilliams@ufcw.org) or Karina Lopez (klopez@ufcw.org) at the UFCW Civil Rights and Community Action Department.