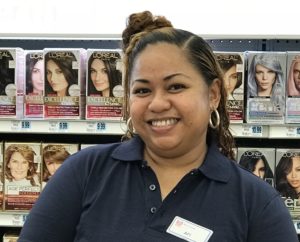 UFCW Local 1442 member and LifeMart sweepstakes winner Afiafi Iosua is celebrating the value of belonging to our union family with a $1,000 Visa giftcard.
Iosua, who was in born in Manu'a, Olosega American Samoa, is a new UFCW member who has been working at Rite Aid in Los Angeles since July. Currently, she shares a car in order to get to and from work, but now plans to use her LifeMart sweepstakes winnings to help purchase her own car.
"I love being part of the UFCW and I love the discounts," said Iosua. "I didn't know that being part of a union came with so many other benefits. It's been a blessing."
Iosua's story is a great example of one of the many ways UFCW members are building a better life with the value they get from their union. By being a member of our union family, you have access to amazing savings and discounts, including important life costs like education, child care, your cell phone bill and foreign language classes, as well as cosmetics, concert tickets, jewelry and movie tickets. You can get more information about all the ways you can take advantage of the value the UFCW has to offer here.