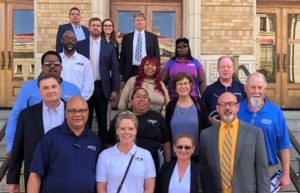 The UFCW International organized a lobby day in Washington, D.C., last week for members of our union family who work in pork processing plants to highlight the dangers of increasing hog slaughter line speeds. Members from UFCW Locals 2, 9, 440, 663, 700, 1149 and 1208 who work at pork processing plants in Minnesota, North Carolina, Iowa and Indiana traveled to the nation's capital to raise awareness about how the U.S. Department of Agriculture's (USDA) proposal to end line speed limits puts both workers and consumers at risk.
The members, who work at Quality Pork Processors in Minnesota, Smithfield in North Carolina, and at Swift & Co., Farmland Foods and Tyson Fresh Meats in Iowa and Indiana, arrived in Washington, D.C., on Sept. 25 to attend an advocacy training session hosted by the International to prepare them for their lobbying day. The next day, the members, along with staff from the International, met with Mackenzie Gross, deputy director of the National Economic Council; Loren Sweatt, deputy undersecretary of the Occupational Safety and Health Administration; and Carmen Rottenberg, administrator for the USDA's Food Safety and Inspection Service (FSIS). At the meetings, the workers spoke about the dangers faster line speeds pose to workers and consumers in an already dangerous industry.
"I'm proud to be here with my union family to talk to the USDA about their decision to take limits off of line speeds," said Sherry Louk, a member of UFCW Local 1149 who works at Tyson Fresh Meats. "They need to know that this will force workers  to work too fast and will lead to injuries and illnesses."
"We already have a hard time with regular speeds and I've been hurt before," said Elizabeth Bell, a member of UFCW Local 1208 who works at Smithfield. "I'm not afraid to speak out about this issue because my union is here backing me up."
The workers also hand-delivered a letter from UFCW International President Marc Perrone to Rottenberg, which calls on FSIS to reopen the comment period and delay the implementation of the pork line speed rule, which would allow for an unlimited increase in hog slaughter line speeds. The letter also points out that the USDA withheld important injury data relating to the proposed rule until after the comment period had closed. A full copy of the letter is available here.