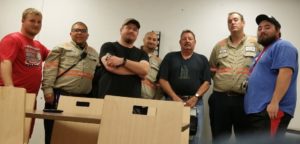 Workers at Kinder Morgan Company in Cincinnati joined ICWUC / UFCW Local 664C on Sept. 7. Kinder Morgan is one of the largest energy infrastructure companies in North America, and the workers load and unload hazardous chemicals from river barges.
The workers contacted ICWUC / UFCW President Frank Cyphers in August about joining our union because they were concerned about job security and forced to sign a "one strike and you're out" policy.
"We welcome the Kinder Morgan workers to the ICWUC and we know they will be glad they joined up with us," said Cyphers.