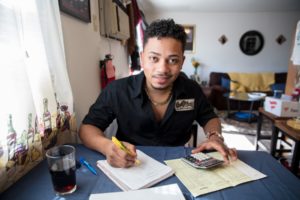 The UFCW International's full platform of education benefits is a comprehensive approach to helping locals ensure that their members are on track for a successful future no matter where they are in their educational path.
As a union that represents a diverse array of hard-working women and men from backgrounds ranging from meatpacking plants to health care facilities, our free online education benefits are just one way the UFCW International is committed to helping locals provide more value to all members—whether they are part- or full-time or new to our union family. By removing barriers to college enrollment and graduation, our union is helping thousands of members achieve their academic goals and prepare for the workplace of the future.
Since the UFCW International launched the UFCW's Free College Benefit last year, over 2,000 members have enrolled. Over 2,300 members have enrolled in the UFCW's free online General Equivalency Diploma (GED) classes and free online foreign language classes since these programs were launched this year. The UFCW International has also helped locals spread the word about these amazing benefits by using the Hustle app and through email enrollment notifications.
"We were looking to create more opportunities for our members," said UFCW International Secretary-Treasurer Esther López, who oversees the UFCW's free online GED program. "That's why we created a comprehensive package of benefits to help our members further their education—including the free online college, GED and foreign language programs."
"For many of our members, things happen that prevent them from furthering their education," López continued. "These educational benefits fulfill a great need for our members because they're flexible and affordable."
The UFCW's Free College Benefit makes it possible for UFCW members and their families to earn an Associate Degree online through Eastern Gateway Community College (EGCC) with no out-of-pocket costs or need for loans. You can attend school part-time or full-time – whichever fits your schedule. All you need to get started is a high school degree or GED, there are no entrance exams to worry about. Available programs at EGCC include Business Management, Accounting, Paralegal, and Early Childhood Education. Since we began this benefit, we've saved UFCW members over $2 million in tuition costs.
The UFCW's Free College Benefit is available exclusively to UFCW members, retired members, and family members, including children, spouses, grandchildren, domestic partners, and dependents. You can learn more information about this amazing benefit here.
"I was really excited when our union offered free college to members," said RWDSU / UFCW Local 338 member My Co, who works at Key Food and is studying business management at EGCC. "The process is easy and Eastern Gateway Community College was very helpful. I am very happy with it."
The GED benefit is designed to successfully prepare people to pass the GED test, regardless of when they last went to school. The classes are self-guided and offer flexibility since they can be taken on phones, tablets, or computers. Members can access the free GED classes benefit here.
"The GED program is a real help," said Jolene Babcox, who works at Safeway and is a member of UFCW Local 555. "They explain everything in an understandable manner. It's really convenient so you can study when the time is right for you. They did an amazing job on this."
The free language benefit allows members to take free online classes to learn Spanish, French, German, English, or Mandarin. These classes are self-guided and members can choose between quick learning (if they are taking a trip) or in-depth study programs. Members can access the free foreign language classes benefit here. Both the GED and foreign language benefits are open to members and retirees.
"I love the fact that the union offers education programs like free college and the foreign language program," said Pam Collins, who works at Hormel and is a member of UFCW Local 1473. "I was worried it was going to be complicated, but it was so easy to sign up for Free College. I'll have 30 years at the plant come January and I'm in the paralegal program now. I tell everybody I can 'just go for it.'"