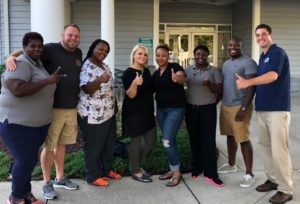 Twenty workers at the Peach Tree Acres assisted living facility in Harbeson, Delaware, voted unanimously to join UFCW Local 27 on August 30. Peach Tree Acres is the only facility of its type in the state of Delaware and provides apartment-style assisted living and day care rehabilitative services for adults with brain injuries.
Despite union-busting tactics and intimidation, the workers were determined to join UFCW Local 27 because they were concerned about wages, medical insurance, and a lack of respect from management in the workplace.
"It feels great to know that now that we voted for Local 27, someone will have our back at work!" said Kyna Hanzer.
"Let's negotiate! I can't wait to see all of the positive improvements that will be guaranteed with our union contract!" said Chrissy Hanzer.
"I am truly excited about upcoming negotiations with the company," said Anthony Vogel. "I like the fact that, with a union contract, we will have job security."
Organizers Josh Roussey and Erv Cofield worked with the inside organizing committee and used the Hustle texting app to reach out to workers at Peach Tree Acres.
"Congratulations to the hard-working men and women of Peach Tree Acres! They stood together and stayed strong throughout the company's anti-union campaign, and we look forward to negotiating the best contract that we can for the workers and their families," said UFCW Local 27 President Jason Chorpenning.