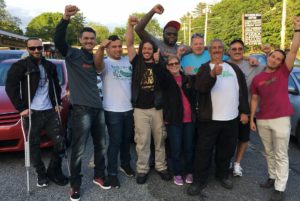 After working with the UFCW International to amplify their inability to pay rent and reliance on food stamps to eat, the struggles of potential members at Best Market and others have inspired Senator Bernie Sanders (I-Vermont) and Rep. Ro Khanna (D-California) to introduce legislation that would help address their concerns.
Best Market, which operates 29 stores in New York, Connecticut and New Jersey, is one of the most profitable grocery chains in the country. Despite the grocery chain's success, hard-working women and men at Best Market stores have continually struggled to earn enough hours, pay or benefits.
"Last year, Best Market put me in the worst situation of my life," said David Ness, who works at Best Market in Selden, New York. "I was working full-time at the store. My wages were low, but I was able to just scrape by. I couldn't understand why more people were being hired at my store, while they were cutting the hours of longer term workers like me. Even though I was willing to work in any department at any time, I just wasn't getting the hours I needed to pay the bills. I couldn't believe that I wound up homeless."
"It seemed like we were understaffed all the time at work," said Louis Wood, who works at Best Market in Commack, New York. "It also seemed liked safety just wasn't a priority for the management of Best Market.  I have had multiple injuries at the store.  In 2015, I slipped and fell on a greasy floor. We had been complaining to management about the floor for months, but the floor was never cleaned.   I missed 2.5 months of work because of that injury.  I've lost all my life's savings.  I am in constant pain.  I'm now 29.  I can't do any of the things that I used to love.  I can hardly walk at all now.  My mother and I are now worrying that we may not be able to afford rent soon and we don't know what we are going to do."
These firsthand accounts of Best Market workers, coupled with similar stories from workers at other profitable companies, such as Walmart, Amazon and McDonald's, inspired Senator Sanders and Representative Khanna to introduce legislation that would establish a 100 percent tax on corporations with 500 or more employees equal to the amount of federal benefits received by their low-wage workers. For example, if a worker at Amazon receives $2,000 in food stamps, the employer would be taxed $2,000 to cover that cost.
Our union family has always believed that no one should have to struggle alone, and we are proud to support Best Market workers as they stand together to build the better lives they have earned and deserve.