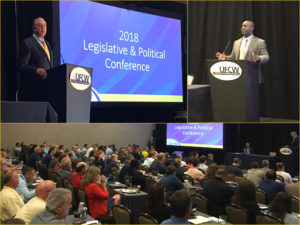 Over 150 members of UFCW locals from across the country attended the UFCW's Legislative and Political Action Conference on July 23 to 25 to focus on mobilizing voters ahead of the midterm elections. In two days, our local staff attended workshops on topics that included using partnerships to move legislation and texting with Hustle to mobilize members. Participants also received the latest updates on federal legislation impacting our membership and industries, such as SNAP, immigration reform and line speeds.
"After learning more about Hustle during the political conference, it just made sense to take our voter mobilization message directly to our members via text message," said Jason Kaseman, the political director at UFCW Local 1059. "We're getting the information and encouragement our members need straight to their cell phones, and that's empowering them to vote and be heard in this year's election."
Since the conference, UFCW Local 1059 has been trained to use Hustle by the International and has a plan to contact 2,000 of their members and follow up with a mail GOTV program.
UFCW International President Marc Perrone and International Vice President and Director of the Legislative and Political Action Department Ademola Oyefeso addressed the importance of turning out the vote and supporting worker-friendly candidates at the conference.
"Now more than ever, the time has come for all of us to stop being mad about past elections and focus on the election ahead that we can win," Perrone said. "We must register new voters. We can't wait for it to happen. We have to get every voter to the polls. Because we can, in fact, win every race."
"There is too much at stake for any of our members to miss voting this November," said Oyefeso. "Simply put, if we show up together at the polls, we can win."
The conference also featured guest speakers, including Governor of Virginia Ralph Northam, Senator Catherine Cortez Masto (D-Nevada) and former U.S. Attorney General Eric Holder.
If you're interested in learning more about Hustle, contact Erin Ward at eward@ufcw.org.