About 250 members of UFCW Locals 7, 21, 27, 135, 324, 400, 555, 770, 1167, 1428, 1442 and 1996 who work for Kaiser Permanente traveled to Costa Mesa, California, on July 8 to attend the Alliance of Health Care Unions (AHCU) rally in support of coordinated bargaining with their employer. The UFCW is a member of the AHCU, and represents over 12,000 Kaiser Permanente employees.
The AHCU is bargaining with Kaiser Permanente for better wages, benefits, and improved working conditions, including fair scheduling. More than 2,500 union members attended the rally, which was held at the Hilton Orange County, and gathered in the hotel's ballrooms and hallways in a show of unity during the negotiating process.
"On Sunday morning, our members delivered the message that we must secure a fair raise for all, protect our benefits, and get partnership back on track," said Mark Stewart, a Kaiser Permanente employee who is a member of UFCW Local 21. "Management heard us, and they will keep hearing from us for the rest of the summer – and into September if necessary. We will not rest until we have a good agreement for every member of our alliance."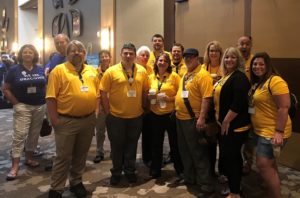 The AHCU and Kaiser Permanente have reached a few tentative agreements, and bargaining for a national agreement is scheduled to take place in August.
The AHCU is comprised of 21 local unions representing over 45,000 workers across hundreds of job classifications in nearly every geographic area where Kaiser Permanente has a presence. In addition to the UFCW, the alliance includes the locals of AFSCME, USW, IBT, KPNAA, IUOE, OFNHP (AFT) and ILWU.