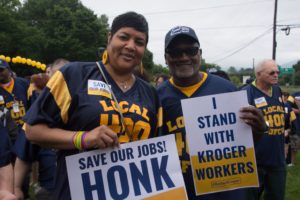 Hundreds of Kroger associates and supporters rallied outside of Kroger's Mid-Atlantic Division headquarters in Roanoke, Virginia, on June 12 to protest a possible store closing in Norfolk and demand more information about the company's recent acquisition of eight Farm Fresh stores in the Hampton Roads region.
In March, Kroger announced plans to renovate the Farm Fresh locations and reopen them as Kroger stores. However, one of the Farm Fresh stores is directly across the street from an existing Kroger store at 205 East Little Creek Road in Norfolk. The workers at the Kroger store, who are members of UFCW Local 400, have asked if they will be allowed to transfer to the new store across the street; however, Kroger has refused to give them straight answers.
At the rally, the workers delivered petitions signed by thousands of Kroger employees and customers in five shopping carts to Kroger's Mid-Atlantic Division President Jerry Clontz, asking for Kroger officials to meet with them and let them know that they will have the opportunity to transfer to the new store across the street without losing the benefits they have earned.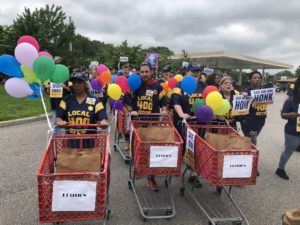 "I think they know what is going to happen and we want an answer," said Kroger florist Marjorie Mathena in an interview with WVTF, Virginia's public radio station. "And our question is we all want to go in one store. We are one family. We have been there all this time, more than 20 years."