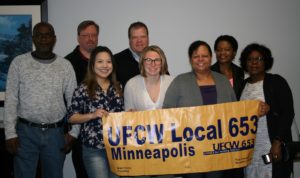 In April, members of UFCW Local 653, in partnership with the Northwest Suburbs Community and Labor Coalition, took part in a community canvassing event in Hennepin County, Minnesota, to talk about the need for living wages and affordable housing. Hennepin County is the most populous county in the state of Minnesota, and includes the cities of Minneapolis, St. Paul and Bloomington. Other labor, community, and faith based groups also participated in the event.
According to the Massachusetts Institute of Technology (MIT) Living Wage Calculator, a living wage for a family of two adults and two children in Hennepin County is $69,759 per year before taxes. However, many working families in the area earn less than the MIT living wage threshold, and are struggling with the rising cost of housing.
"People working 40 hours a week should be able to afford a decent place to live and food to feed their families without working multiple jobs. I believe livable wages and affordable housing should be basic rights," said Alex Kunau, a member of UFCW Local 653 who works as a deli manager at Silver Lake Road Cub Foods.