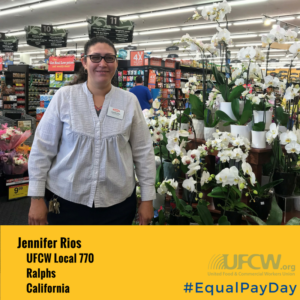 UFCW women spoke out about the benefits of having a union contract on April 10, which marked Equal Pay Day. The month of April symbolizes how far into the year women must work to earn what men earned in the previous year.
According to the U.S. Census Bureau, women are paid only 80 cents for every dollar a man is paid on a national average. Because women earn less, on average, than men, they must work longer for the same amount of pay. The wage gap is even greater for most women of color.
However, being a member of a union helps to close the wage gap. According to the Economic Policy Institute, union women make 87 percent more in total compensation and 56 percent more in wages than their nonunion counterparts in female dominated service positions, such as food service and janitorial services. And overall, hourly wages for union women are 9 percent higher on average than for nonunionized women.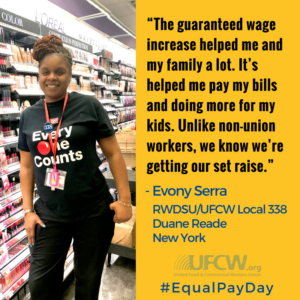 "There are probably federal laws that protect nonunion workers, but having such language in your contract makes it easier. I know my union will fight for me," said Jennifer Rios, who is a member of UFCW Local 770 and works at Ralphs in California. "Under a union contract, depending on your job classification, we're all paid the same. We all move through the same progression steps. With the guaranteed wage increases, I'm able to do a little extra for my family, such as planning a family outing."
"The guaranteed wage increase helped me and my family a lot," said RWDSU/UFCW Local 338 member Evony Serra, who works at Duane Reade in New York. "It's helped me pay my bills and do more for my kids. Unlike nonunion workers, we know we're getting our set raise."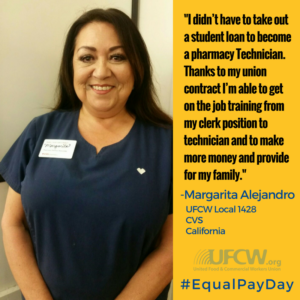 "I didn't have to take out a student loan to become a pharmacy technician," said Margarita Alejandro, a UFCW Local 1428 member who works at CVS in California. "Thanks to my union contract, I'm able to get on the job training from my clerk position to technician and to make more money and provide for my family."