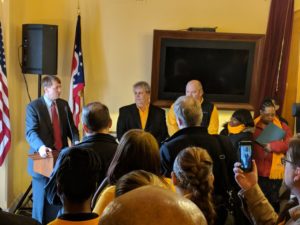 On March 21, UFCW Locals 17A, 75, 880, 1059, along with the ICWUC and RWDSU, held a press conference at the statehouse in Columbus, Ohio, to endorse Democratic candidates Rich Cordray and Betty Sutton for governor and lieutenant governor. Collectively, these local unions represent over 80,000 hard-working Ohioans.
"Betty and I are proud to have the support of the hard-working women and men of UFCW," said Rich Cordray. "These are the Ohioans who help make our state run, and who deserve champions in the statehouse who will fight for good wages, affordable health care, and the right for all workers to bargain collectively. Betty and I have been proud to stand on the side of working families throughout our careers in public service, and will continue to do so as Ohio's next governor and lieutenant governor."
"Rich and Betty have the experience and enthusiasm to stand with every Ohioan who is hoping to achieve the economic stability they've earned and deserve," said UFCW Local 1059 President Randy Quickel. "Starting today and stretching to November and beyond, we're proud to be building a roadmap with Rich and Betty to help hard-working Ohio families build better lives."
"One of the many reasons we chose to endorse Rich Cordray and Betty Sutton to lead our state is because they have both shown a willingness to stand with us for better wages and stronger benefits. Rich and Betty understand that "right to work" just means the right to work for less," said UFCW Local 17A President Sonja Campbell. 
"Support from both Rich and Betty has always been more than talk. Their words lead to action and results," said ICWUC President Frank Cyphers. "As our next governor and lieutenant governor, Rich and Betty will return our state government's focus to solving the issues that are so important to Ohioans — like creating good paying jobs, improving public education, and ensuring access to affordable, quality health care."
"We need a governor who cares more about passing good laws than scoring political points. Richard Cordray will be just that type of leader," said UFCW Local 880 President Carl Ivka.
"Richard Cordray is shaping his campaign around the issues that matter most to hard-working families. For that reason, choosing to endorse him for governor was an easy decision that we were proud to make," said UFCW Local 75 President Kevin Garvey.
"From his days as Attorney General of Ohio to leading the Consumer Finance Protection Bureau, Richard Cordray has consistently shown an unwavering commitment to making life better for hard-working families. He will be a governor who gets things done," said RWDSU Regional Director Rick Marshall.