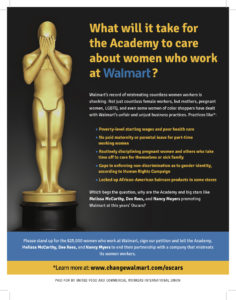 On Feb. 7, Making Change at Walmart (MCAW) and UFCW International Secretary-Treasurer Esther López sent a joint letter to Melissa McCarthy, Dee Rees, and Nancy Meyers, urging them to stand up for the rights of working women and end their Academy Awards partnership with Walmart.
The letter was in response to the three prominent female celebrities' partnership with Walmart to produce the company's television commercials that will air during the Academy Awards ceremony on March 4. As part of the effort to highlight Walmart's track record, MCAW also published a full-page ad in Variety magazine.
"While at face value this would seem to represent a positive campaign, we urge to you look at the facts about Walmart's past actions that reflect on its values. Values that have had a negative impact on countless women and their families, and that send a terrible message as to what behavior is acceptable if we are serious about social equality and justice," said López in the letter to the three Hollywood filmmakers.
The Variety ad, which includes a graphic of the Oscar Award hiding its face, lists several reasons and facts as to why Walmart is an unfriendly workplace for women, families, and pregnant workers, and details Walmart's scrutiny towards some women of color shoppers and mistreatment of some LGBTQ employees.
Starting this week, MCAW will begin a series of on the ground actions in Los Angeles, including human bill boarding outside a pre-awards gala Wednesday evening and a press conference on Thursday with a former Walmart worker who was mistreated while pregnant and working at Walmart.
You can sign a petition in support of this campaign here.