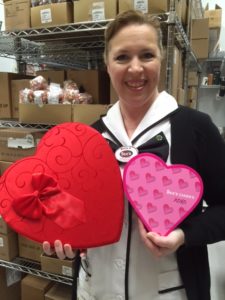 From sparkling wines to See's candies, UFCW members are making Valentine's Day a little sweeter for people in communities across the country.
One example is Rob, a member of UFCW Local 1776 and a Wine Specialist at the Fine Wine & Good Spirits store 4646 in Ardmore, Pennsylvania.
"When it comes to Valentine's Day, I always recommend sparkling wine because it is popular, versatile and celebratory, i.e. 'pop the cork,'" he said.  "Sparkling wine can be used at any time before, during or after dinner."
There are many varieties of sparkling wine, but Rob recommends sparkling wines from California, Prosecco from Italy, or the classic: champagne from France.
On the West Coast, Becky at See's candy has been a member of UFCW Local 5 since 2002. Now an assistant store manager, Becky's experience is put to good use during one of her store's busiest times of year–Valentine's Day.
"We serve anywhere from 200 to 600 people a day," she said.
If you're planning to buy a sweet treat for a special someone this Valentine's Day, Becky recommends getting one of See's pre-filled 1-pound heart boxes if you're in a hurry, or using their handy candy menu at sees.com to hand select each individual chocolate inside.
UFCW members also have access to exclusive discounts for Valentine's Day. You can save 25 percent on flowers and gifts from Teleflora. Get more information here and make someone's Valentine's Day special.