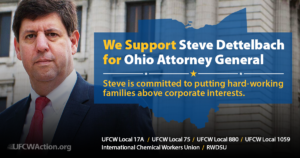 On Jan. 4, UFCW Locals 17A, 75, 880, 1059, along with the ICWUC and RWDSU, released the following statements after endorsing Steve Dettelbach for Ohio Attorney General. Collectively, these local unions represent over 80,000 hard-working Ohioans.
"Steve Dettelbach has continually proven that he is completely committed to putting what's best for everyday Ohioans above all else," said Randy Quickel, president of UFCW Local 1059.
"Now, more than ever, we need and deserve leaders like Steve who will stand with and up for hard-working men and women when it matters most," said Carl Ivka, president of UFCW Local 880.
"Simply put, Steve Dettelbach will be an Attorney General who protects good jobs and better wages across Ohio. We endorse him with enthusiasm and look forward to helping him win this race," said Kevin Garvey, president of UFCW Local 75.
"Steve Dettelbach isn't afraid to push back against predatory corporations and secure real progress for hard-working people. We look forward to him standing up for everyday Ohioans as our next Attorney General," said Sonja Campell, president of UFCW Local 17A.
"Steve Dettelbach knows how to work with the community and law enforcement to help make our communities safer for all," said ICWUC President Frank Cyphers.
"The time has come for Ohio to have an Attorney General who puts people before politics. Steve has spent his career fighting for justice for working people, no matter who they work for. Steve is not afraid to stand up to business owners who hurt working people – no matter what. We will fight for him to win this election because we know he will fight for us as Attorney General," said RWDSU Regional Director Rick Marshall.