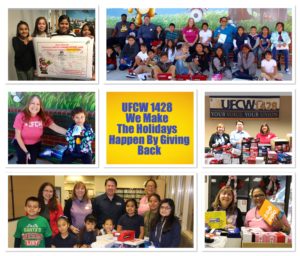 UFCW locals made the holidays a little brighter for those in need in communities across the country.
UFCW Local 1428 purchased 100 pairs of shoes for children at four local schools in Montclair and Pomona, California, with money raised from staff, members and community partners. UFCW Local 1428 has coordinated with "Shoes That Fit," a local nonprofit, for over 20 years to provide shoes to local children.
RWDSU/UFCW Local 338 donated toys to the John Theissen Children's Foundation for children in the New York area. They also donated to several local food pantries that provide hot holiday meals to families in need. You can see the full impact of their work to make the holidays a little brighter for members of their community here.
UFCW Local 8GS collected donations for members who lost everything in the wild fire in Northern California. Their office in Santa Rosa, California, has been set up for donation collection and distributions to members and the have raised over $120,000 online through YouCaring.com.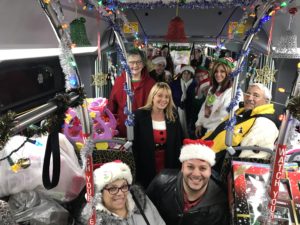 UFCW Local 23 held its annual "Stuff the Bus" toy drive for UFCW members in crisis, as well as other union members throughout the region, through the central labor council – where a festively decorated bus is stuffed with gifts and gift cards to make holiday dinners happen. The toy drive is organized by members of UFCW Local 23, who solicit the Christmas "wish lists" from kids of members who are in crisis, and pack boxes with some of the collected toys, as well as some clothing and a gift card for groceries. The gifts and gift cards are delivered to the member parents, who are then able to put something under the tree. There are always a lot of toys left, and these are delivered to other union and community members.