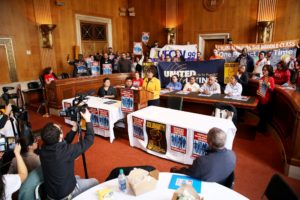 Last week, members from several local unions across the country, including UFCW Locals 99, 431, 876, 1189, 1776 and RWDSU, came to Washington, D.C., to deliver a message to our elected officials: Save Temporary Protected Status (TPS) and keep hard-working families together. This message was highlighted by the delivery of over 60,000 signed petitions to members of Congress.
UFCW International Secretary-Treasurer Esther Lopez rallied members on the Hill. with a clear message."Hard-working people who have lived here for decades and played by the rules should be offered a path to legalization and citizenship," she said.
TPS families have fled natural disasters, violence, instability, and ethnic, religious, and ideological persecution. They have also raised children here, regularly undergo DHS background checks, paying renewal fees on top of taxes, and are truly making America a better nation even as they work hard to build a better life for their families.
Ending TPS for tens of thousands of hard-working families is a personal issue to our union family – that's why we recently joined with UNITE HERE, IUPAT, Bricklayers, AFL-CIO and the Ironworkers to form a group called Working Families United to raise our united, collective voice on behalf of TPS holders. We support Sens. Ben Cardin (D-Md.), Chris Van Hollen (D-Md.) and Diane Feinstein (D-Calif.)'s bill (SECURE ACT), and another introduced by Rep. Nydia Velázquez (D-N.Y.), H.R. 4253 (115). Together, we're keeping the pressure on key congressional targets to support these measures.