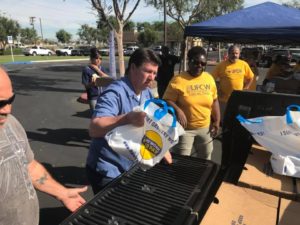 From hosting "giving trees" to organizing food drives, UFCW locals are kicking into high gear to help make the holidays a little brighter for those in need in communities across the country.
In the northeast, UFCW Local 1500 is organizing a Toy Drive for the John Theissen Children's Foundation. Since 1992, the foundation has collected over 920,000 new toys and donated them to sick and underprivileged children in hospitals and child care facilities.
UFCW Local 152's annual Teddy Bear Drive collects stuffed animals for Santa to give away at the holiday dinner dance for ARC of Burlington County, which provides a variety of disability services that include adult day care and in home supportive services.
In November, RWDSU/UFCW Local 338 delivered 200 turkeys donated by its members to several food pantries and charitable organizations throughout New York City, Long Island, and Westchester County as part of the union's annual "Turkey Drive."
RWDSU/UFCW Local 338 members weren't the only ones out making sure everyone could have a nice holiday feast. On the other side of the country, UFCW Local 1428 members in California held a turkey giveaway over the Thanksgiving holiday.
Are you a UFCW member with a story of how union members in your area are giving back this holiday season? If so, please drop us a line at submissions@ufcw.org or send us your story on our Facebook page and let us know how you are making a difference in your community.