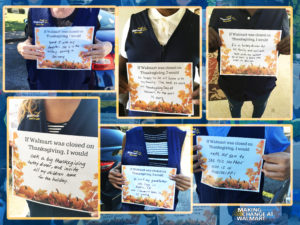 Making Change at Walmart (MCAW) released a 30-second TV commercial on Nov. 22 as part of its multi-pronged holiday campaign denouncing Walmart's "war on the holidays." The ad ran during the Macy's Thanksgiving Day Parade on local NBC affiliate markets in Sacramento, Phoenix, Madison, and Cincinnati.
The ad is part of MCAW's six-week holiday initiative to highlight the retail giant's "war on the holidays," which included grassroots actions and social media efforts in Indianapolis, California, Arizona, Texas, Illinois, Delaware, and New York during the week leading up to Thanksgiving. Coordinated actions will continue this week at Walmart locations in at least 10 cities across the U.S. to highlight Walmart's failure to do what every responsible employer does – pay its workers holiday pay.
Up until last year, Walmart workers who worked on a holiday received their regular hourly wage plus additional pay, equal to the average daily wage in the 12 weeks leading up to the holiday. In 2016, Walmart changed its policy and eliminated holiday pay for all workers.
The script of TV ad titled "This Thanksgiving, Be Thankful That You Don't Work For Walmart" reads as follows:
These are all real Walmart workers
Afraid to speak out publicly or show their faces.
They're faced with a choice of working with no holiday pay on Thanksgiving
Instead of spending time with their daughter,
Or to see her grandfather,
Or to be with her four-year-old.
Hard-working Walmart workers
With no holiday pay,
And no chance for a better life.
So, this Thanksgiving, give thanks for one thing,
That you don't work at Walmart.
You can view the ad here.